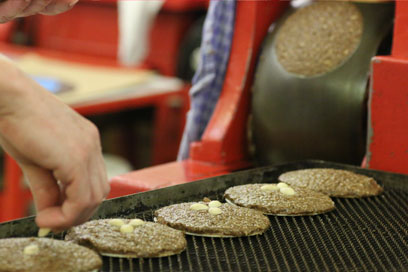 With our production we have remained true to the real craft. The ingredients are still weighed by hand and the sugar glazing is applied with brushes individually. This often surprises people, especially when we allow groups to look over our shoulders during a guided tour in the bakery. Such a degree of craftmanship exceed most visitors' expectations. Our recipe is a composition of great ingredients, traditional craft and passion for what we are doing.
Once all the components are mixed and the dough has the ideal consistency, the Lebkuchen are made by putting the dough on wafers. After that, we put every single Lebkuchen on a baking tray. Good monitoring of the baking process is also key. As soon as the Lebkuchen turn into the distinctive copper brown colour they are perfectly baked and taken out of the oven.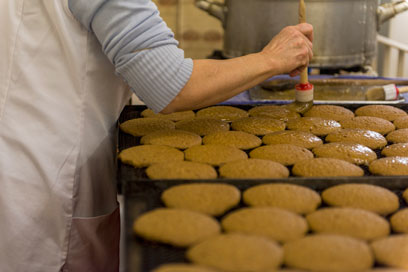 Every step is carefully monitored and consistently controlled so that every Lebkuchen leaves our bakery as a top quality product.
Bevor packing, some of the Lebkuchen are sugar coated. The icing is carefully applied with a brush. Another part of the Lebkuchen gets a chocolate coating while the rest remains as it is.